While you were playing in your tree house, I was analyzing branch destabilization scenarios.
I love trees. Not just because they're biggest, most beautiful flora in all creation, but because they're a living, breathing glimpse into our past and our future. This is the passion I have for these magnificent plants, and that's what I'll bring to your landscape.
Why Aspen Arboricuture?
There are two parts to Aspen Arbo. - Professional Arboricultural Consulting (Nationwide) and Professional Plant Health Care Services for Sioux Falls, SD.
Aspen Arboriculture Solutions is Sam Kezar, an ISA Board Certified Master Arborist (MW 4503B), Qualified Tree Appraiser, TCIA Certified Treecare Safety Professional, tree surgeon, tree climbing specialist, husband, father, outdoorsman, and nature lover. Aspen Arboriculture Solutions core focus is on customer service and a dedication to excellence. We are a Learning Organization that is continually learning about trees and their relationships with people and evolving and adapting our practices for the best interest of the tree and tree owner. Trees have value and therefore the people using them have value, and it is our job to advocate, educate, learn, and promote those values.
Services for the Sioux Falls, South Dakota area focus on Plant Health Care and advanced Tree Care practices. Our goal is to provide the most accurate and up-to-date science based tree care information in order to make your tree thrive and not just survive in your landscape.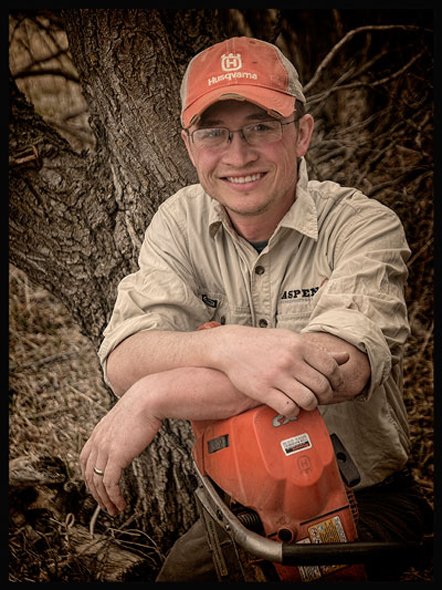 Qualifications
M.S. INDUSTRIAL SAFETY, SOUTH DAKOTA STATE UNIVERSITY - AREA OF STUDY: ARBORIST SAFETY AND AERIAL RESCUE PROTOCOL FOR THE TREE CARE INDUSTRY.
REGISTERED CONSULTING ARBORIST, #705, AMERICAN SOCIETY OF CONSULTING ARBORISTS
INTERNATIONAL SOCIETY OF ARBORICULTURE BOARD CERTIFIED MASTER ARBORIST (MW 4503 BT)
SOUTH DAKOTA ARBORISTS ASSOCIATION - CERTIFIED ARBORIST
TREE CARE INDUSTRY ASSOCIATION, CERTIFIED TREECARE SAFETY PROFESSIONAL (#192)
TREE APPRAISAL GROUP - QUALIFIED TREE APPRAISER
OWNER AND CLIMBER OF RESIDENTIAL AND COMMERCIAL TREE CARE COMPANY FOR 15 YEARS.
PRESIDENT - SOUTH DAKOTA ARBORISTS ASSOCIATION (2017-PRESENT)
NATIONALLY RECOGNIZED ARBORIST SAFETY EXPERT AND SPEAKER
LEAD INSTRUCTOR

NORTH AMERICAN TRAINING SOLUTIONS
ARBORICULTURE CANADA TRAINING AND EDUCATION

CHAIRMAN OF THE BOARD - TREE APPRAISAL GROUP
MEMBER

AMERICAN SOCIETY OF CONSULTING ARBORISTS
INTERNATIONAL SOCIETY OF ARBORICULTURE
MINNESOTA SOCIETY OF ARBORICULTURE
MIDWEST SOCIETY OF ARBORICULTURE
SOUTH DAKOTA ARBORIST ASSOCIATION

ARBORIST LICENSE #334 - CITY OF SIOUX FALLS, SD
Contact Sam with Aspen Arboriculture today to schedule your consultation visit. 605-759-6020